Karnavati
Akhil Bharatiya Pratinidhi Sabha of Rashtriya Swayamsevak Sangh commenced today on 11th March 2022 in Karnavati, Gujarat. Param Pujaniya Sarsanghchalak Dr. Mohanji Bhagwat and Honourable Sarkaryavah Shri Dattatreya Hosbale Ji inaugurated the Sabha by offering flowers to Bharat Mata. Thereafter, Sarkaryavah Ji presented the Annual Report before all the representatives present in the Sabha.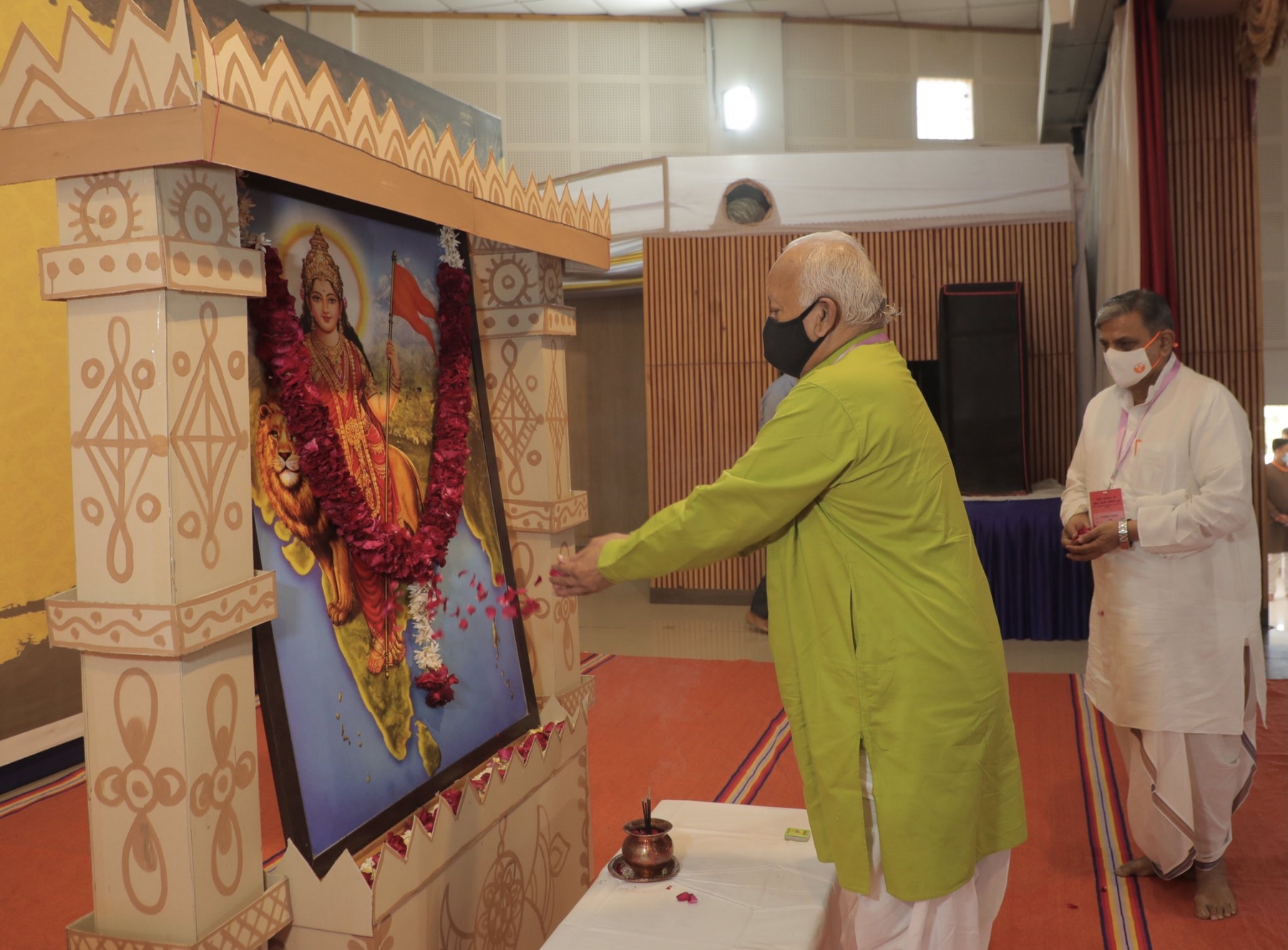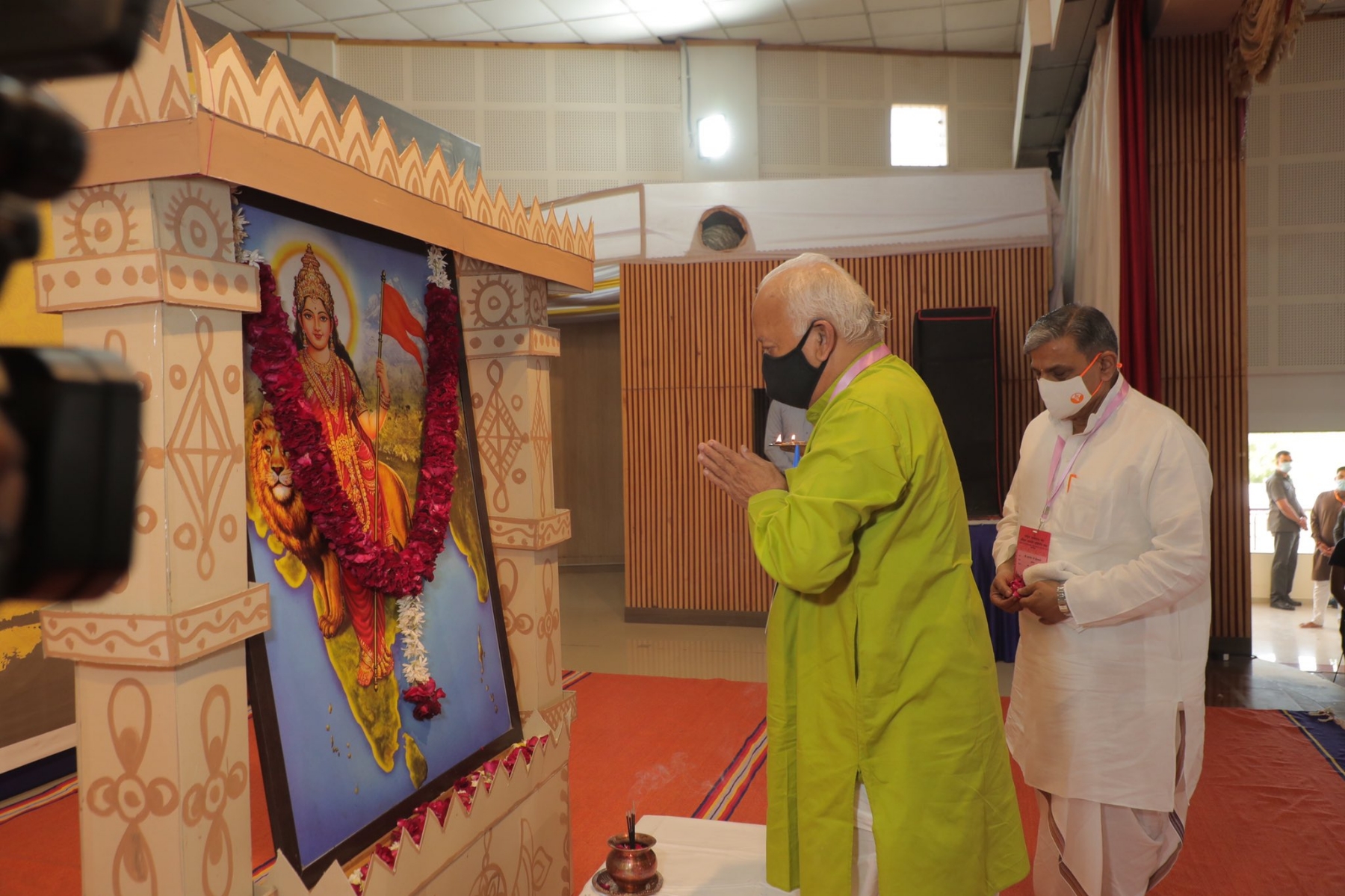 Immediately after the commencement of the Sabha, Shri Manmohanji Vaidya, Sah Sarkaryavah of Rashtriya Swayamsevak Sangh, addressed the Press Conference and said that Akhil Bharatiya Pratinidhi Sabha is an important decision-making body of Sangh. This time 1248 Karyakartas from all the States of the country are expected to attend this meeting. At the beginning of the meeting, tribute was paid to all the dignitaries who passed away last year, amongst them prominent ones were Bharat Ratna Ms. Lata Mangeshkar, CDS General Bipin Rawat, Babasaheb Purandare, Shri Rahul Bajaj, Pandit Birju Maharaj and P. Srinivasa Ramanujacharya Swami.
Despite the Covid crisis during the last two years, 98.6% of Sangh Karya (activities of RSS) has resumed as compared to 2020. The number of Saptahik Milan (weekly meetings) has also increased. Of the daily Shakhas, 61% are of Vidyarthi Swayamsevaks and 39% are of Vyavasayi (working) Swayamsevaks. As per arrangement for RSS work, there are 6506 khandas (blocks) in the country out of which 84% have Shakhas. Out of 59,000 Mandal's, about 41% of the Mandals have Sangh Karya in the form of basic Shakhas. Shakha work is going on in 94% out of 2303 urban areas and efforts will be made during the next two years to have Shakha of Sangh in all the Mandals (Mandal is a cluster of 8-10 villages ). During the period from 2017 to 2021, about 1 lakh to 1.25 lakh youths between the age group of 20 to 35 expressed their desire to join Sangh through online platform of 'Join RSS' made available on the website of RSS.
Between April 15 to mid-July of this year, there will be Sangh Shiksha Vargas (training camps of RSS) at 104 places wherein average number would be about 300 per varg.
During the Corona period, the volunteers of the Sangh actively did Sewa Karya (offered their voluntary services) together with the society. 5.50 lakh Swayamsevaks started Sewa Karya from the very first day of the Pandemic. India is the only country in the world wherein a large number of people from monasteries, temples and Gurudwaras came out for Sewa Karya. This is a sign of an awakened country.
The work of Kutumb Prabodhan (family awareness), Gau-Samvardhan (nurturing cows) and Gramin Vikas (Rural Development) is going on in good proportion in Sangh.
In the end, Sah Sarkaryavah called upon Swayamsevaks to devote more time for Sangh Karya.
Shri Sunilji Ambekar, Akhil Bharatiya Prachar Pramukh was also present along with Manmohanji on the stage in the Press conference. Akhil Bharatiya Sah Prachrar Pramukh Shri Narendra Kumarji and Shri Alokkumarji were also present at the Press Conference.